Initiative Constitutional Amendment
CRP Endorsement Certification


February 11, 2000

Bill Westmiller
Author, FV2K
44 Summerfield Street
Thousand Oaks, CA 91360

Dear Mr. Westmiller:
This letter is to certify that the California Republican Party has endorsed the "Fair Vote 2K" Initiative that is proposed fro the November 2000 general election ballot. This endorsement entitles you to use the name of the California Republican Party in your advertisements as a supporter of the Initiative. Good luck in your efforts. If you have any questions, please feel free to contact me at the number above.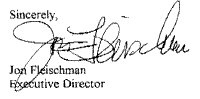 Jump: Resolution Text
Jump: News Release
Feedback: William@westmiller.com